Welcome to my continued sharing of LIVING WITHOUT WALLS …. This is an ongoing dialog 🙂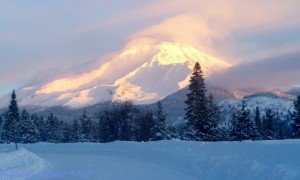 Our departure from Mount Shasta was enveloped in a cloud of emotions. The feeling of being pushed out by our landlord was top of the list along with my feeling helpless to change the events that were unfolding. He had been a wonderful landlord, but I had made the mistake of telling him that the money stream that I had been using to pay rent for 2.5 years was ending.  I was just getting back on my feet (literally and figuratively) from reconstructive surgery on my right leg, and there was doubt in my heart and his that I could get a job and bring in the income quickly enough to keep everyone fluid and happy.
My landlord stated he was concerned that I would squat in his house. So he met me with that fear, rather than the mutual hope that I could get a job and bring in income to allow us to stay.  His energy was so strong about this that he helped me pack the Uhaul trailer and then practically pushed it out of the driveway (energetically speaking of course.)  It is fascinating to me how my inner turmoil and doubt within myself was magnified by his fear resulting in this reality.
My emotions were a jumble of confusion, disappointment, anticipation, and gratitude all dancing around each other.  Such a buzz in my head regarding how we found ourselves homeless and the deep mystery of what was before us. I felt a deep inner strength welling up within me as I prayed for Divine Assistance and was answered by my Presence stepping into my being more strongly to carry me forward with as little stumbling as possible. The Divine Company who traveled with us was notable and included Mother Mary, Jesus, Saint Germain, Magdalena, Quan Yin and the Angels and Elementals who watched over us all.  My gratitude was immense as I felt the arms of God holding us in Love.
Being "homeless" with dog companions rules out homeless shelters. God of course knew this and had inspired a friend in Fernley, NV to be the bridge for our staying at an unused home in Oroville, CA.  This was an old place, well loved and well used.  Although the structure was humble, there was a comfortable bed, bathtub, refrigerator and various electric appliances for cooking. It was also on beautiful property in a rural setting  — our favorite.
The owners were exceedingly kind, which served to assist me in moving through my embarrassment in not being able to provide for myself and my family directly.
The lessons of humility, gratitude and receiving had begun in earnest for me.
 Deep within these lessons was the demand of God that I forgive my past (everyone and everything) and choose to love myself; really, really love myself.  This began the daily training of my putting my hand over my heart, closing my eyes and breathing the essence and words:
I love myself
I forgive myself
I surrender myself and my family into the Divine Will and Love of God I AM
So Be It – Amen
It was the beginning of my deep inner healing and the realization of how really deep my inner wounding resided. The peeling away of all that was not Love. As I write this fifteen months later, the process continues, leaving in its stead an inner strength and compassion for myself and others that is providing me a greater understanding of what Divine Love truly is in form.  Divine Love and the restoration of Divine Harmony within and between each and every one that is the ultimate journey for each of us – it is the journey Home. 
There is no place like home …
There is no place like home …
There is no place like home …
~ Dorothy in the Wizard of Oz
Home is within our heart – again the words of Jesus.  This teaching rose again and again into my consciousness whenever I found myself thinking about being homeless.  There is no such thing as being homeless when you are living within and from your heart.  This is the truth of unity.  It was from this awareness that the title Living Without Walls came forth into my awareness.  And gratefully this awareness was growing within me as I walked into the Oroville Human Services for the first time.
I was there to proclaim and prove my state of homelessness in society's terms and to gratefully receive whatever assistance they would provide my family and me. Sadly, in the eyes of our government structure (at this time) only human family members counted when the benefits were calculated. Dogs may be considered man's best friends, but they are only nice words when it came to housing and aide. Putting that aside, I was able to jump through the many hoops to obtain food stamps, which were the only aide for which I qualified.
Grateful to have received something, I smiled through my tears of discomfort, told everyone thank you, and returned to my car where Mitchel and Ishnahnay waited. Time for a walk in nature to sooth our hearts and spirits, and to allow the Divine to speak to me through this form that I so loved.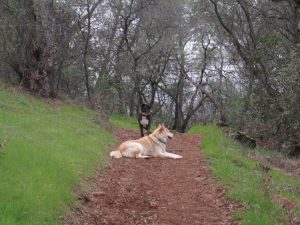 What next I asked ?  These were the words that I was given:

Home is in your heart.  Look there for the answers
Love is your true nature. Always return to Love
Just Let Go and Surrender!
It is time to really know that your Presence and God have your back!
… And have the faith that God I AM will catch you and set you back on your feet; heart wide open; strong; compassionate and free!
The words rang true, and yet I felt a deep tremor within my cells and feeling body.  As this greater Love entered my being, all that was not love began to release. The great purge had begun….
… to be continued
~ Namaste ~ Kathryn Shanti Ariel
Blessings to everyone and everything