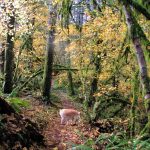 I learned this, at least, by my experiment: that if one advances confidently in the direction of his dreams, and endeavors to live the life which he has imagined, he will meet with a success unexpected in common hours. He will put some things behind, will pass an invisible boundary; new, universal, and more liberal laws will begin to establish themselves around and within him; or the old laws be expanded, and interpreted in his favor in a more liberal sense, and he will live with the license of a higher order of beings. In proportion as he simplifies his life, the laws of the universe will appear less complex, and solitude will not be solitude, nor poverty poverty, nor weakness weakness. If you have built castles in the air, your work need not be lost; that is where they should be. Now put the foundations under them.  ~ Thoreau

I have always been a great lover of Thoreau, of his great wisdom and connection with life; as well as his ability to express these things in such a way as to inspire many.  Our lives are about our journeys day to day, each hopefully building one upon the other through wisdom, gratitude, courage and kindness.  When I was young I was always focused on the destination, the end result that I was seeking.  For years I was able to manifest wonderful experiences through this focus, being fully delighted with the way the Universe & the powers of Creation conspired with me for fun and diverse outcomes. 
Then their came a time when I became very serious about it all.  Interestingly this was during my time of living in Mount Shasta, California which is a great spiritual mecca and a place of great magic. Yet in my time there, life became very serious.  The overall conversation became one of living my Divine Purpose.  This is its own right is wonderful.  My downfall however, was I became focused on the "how" and let the joy of the journey slip away.  Those people in my world were happy to reflect this shift from walking in joy and confidence, to one of sour determination.  My smile went away.  My laugh went away, and along with it my confidence in the journey itself.
Those of you who have read my Living Without Walls blogs know that this resulted in my becoming physically challenged and  house-less.  My redemption has come from amazing people in Portland, Oregon inviting Ishnahnay and me to live with them temporarily during which time I was given great tools; physically and emotionally to find my smile, laughter and to regain my confidence.